Donate your sadaqah and increase your share of blessings!
It doesn't take a big donation to help. $9 feeds one individual.
By the community, For the community. COMMUNITY FRIDGE.
To date, we have assisted hundreds in Ottawa. This is not possible without the dedication of our generous team of volunteers.
In 2022, our volunteers drove 5,000 km and delivered over 6,200 meals directly into the hands our homeless community members in the Ottawa downtown core.
With the support of both ASK Foundation, the Kanata Muslim Association, and our dedicated team of volunteers and generous donors; the Nourishing Neighbours program will continue to support the less fortunate of our own city.
The team of volunteers packs and hands out 120 meals to homeless individuals in Ottawa's downtown. Volunteers meet every Sunday, rain or shine, at KMA in Hall 1. 
In 2023 we also introduced a COMMUNITY FRIDGE; storing frozen meat for those in need, within our own Kanata community to take what they need, when they need it.
ASK Foundation also sponsors meal programs across Ontario, as well as food banks and women's shelters across Canada.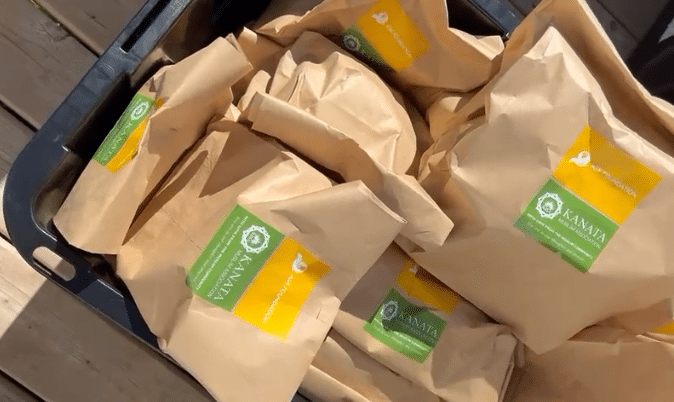 With your help in our 2023 fundraising campaign, our goal is to expand our existing Sunday meal program and introduce new programs for both Kanata and the wider Ottawa community.
Our goals include:
Increase the number of meals packed & delivered to Ottawa homeless shelters on Sunday
Deliver meals to additional homeless shelters and food banks (including women's shelters)
Host a take-what-you-need food cupboard/meat freezer
Start weekly hot meal distribution at KMA (pay what you want)
Sponsor Kanata Food Cupboard/Sadaqah Food Bank with monthly volunteer nights
… And many more!
Nourishing Neighbours was founded with a vision to live in a world without poverty.
Support our community efforts today! How would you like to donate?